CASE STUDY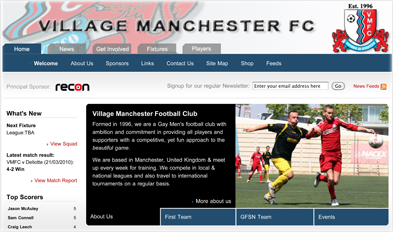 NQWS were commissioned to redesign Village Manchester Football Club's existing website.
The existing website was out of date and did not provide all the information and resources that the club members wanted. The website was also hard to navigate and the content was poorly structured.
NQWS completely redesigned the site to provide:
Rebranding with the club's logo and colours
More logical navigation and structure
Better search engine positioning
Easier ongoing maintenance and flexibility for future expansion
Statistics on usage
Jason McAuley, Communications & PR Officer of VMFC said, We are delighted with the new website that Northern Quarter has designed for us. We now have website of which we are very proud.
NQWS have an ongoing role continuing to maintain and update the Village Manchester FC website.
We are extremely pleased with the quality and level of service that Northern Quarter provides to us.
EXAMPLE WEBSITES